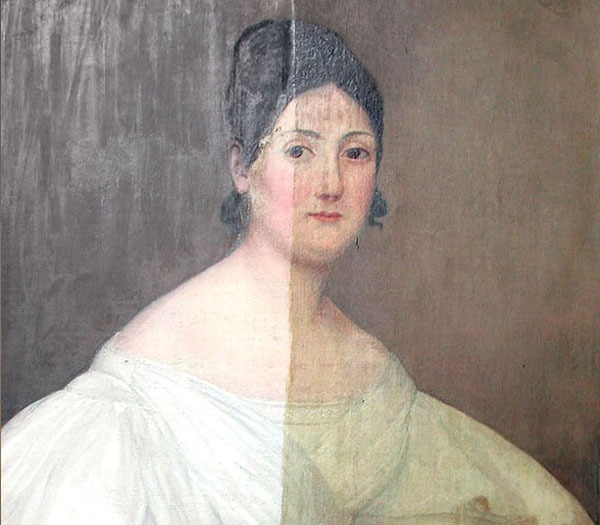 This restoration project demonstrates how surface dirt and old varnish are painstakingly removed one layer at a time.
REACH OUT TO OUR EXPERTS TO SCHEDULE A CONSULTATION.
With decades of experience, we have the ability to restore a wide range of objects, artwork, frames, and furniture. We evaluate the damage of each object to determine the best means of repair, while balancing the structural stability and archival concerns.
Art conservation services include:
ARTWORK
From paintings to works on paper and precious documents, we can conserve artwork to ensure it is in optimal condition.
OBJECT
Our craftsmen have the ability to repair most porcelain, marble, wood, metal, and glass objects.
MIRRORS
In addition to resilvering mirrors, our skilled craftsmen can recreate elaborate Venetian mirror pieces as well as engrave intricate designs on larger panels. 
FRAMES
Utilizing old-world techniques such as carving, casting, and gilding, our craftsman can restore antique frames back to their original glory.
FURNITURE
Our craftsmen are experts in furniture repair and wood furniture refinishing. We offer furniture upholstery with your choice of fabric and provide complete antique furniture restoration. Whether a single piece, or a dining set, or addressing a room of vintage millwork, each project is treated with the same attention and care.
ConTact us about Art Conservation
840 N. Milwaukee Ave
Chicago, IL 60642
info@armandlee.com
Monday - Friday:
9:00am - 5:30pm
Saturday:
10:00am - 4:00pm
(by Appointment Only)
©2022 Armand Lee & Company, Ltd.