Types of custom picture frames
Our expert hands make a variety of custom picture frames including natural wood gallery frames, lacquer picture frames, and gilded frames.
Let our staff lend their expertise to your custom framing needs by suggesting the picture frame options that best fit your project.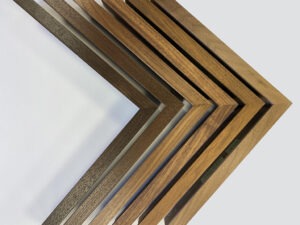 WOOD GALLERY AND COLLECTION FRAMES
Our wood gallery frames are made using locally milled maple, ash, and walnut. Other wood species care is available upon request.  We carry a variety of these classic profiles that can be further modified. These hardwood profiles can be left in their natural state and finished with a clear lacquer or wax, or custom stain.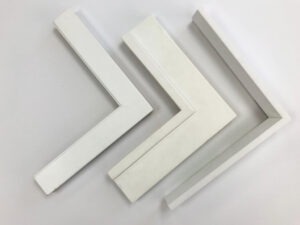 LACQUERED PICTURE FRAMES
Whether satin or gloss white, piano black lacquer, soft gray, or even a vibrant color, since our frames are custom-made by hand, we can customize a finish for your piece.  The finish is applied after the frame moulding is joined, the miter at the corner is covered by the finish which results in seamless corners.  These custom lacquered frames are made using our wood gallery frame molding.  Additional profiles can be custom milled.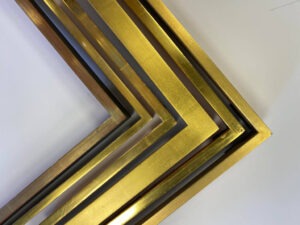 SILVER LEAF AND GILDED FRAMES
Silver leaf, 22k yellow gold leaf, or 12k white gold leaf and other karats in between, we can create elegant custom gold museum frames using traditional leafing methods. Our gilders carefully apply various colorations of real gold leaf or metal leaf foil to our milled gallery profiles as well as to hand-carved wood frames, or plaster and compo ornamentation.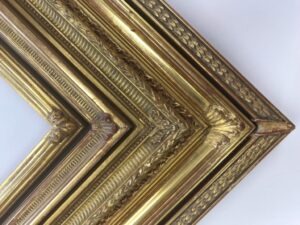 HAND CARVED-ORNAMENTAL FRAMES
Ornate and even minimal designs, we carve one-of-a-kind frames for fine art, portraits, and mirrors. Antique frame designs can be recreated and missing ornamentation on historic frames can be recreated and restored.
These frames can be custom gilded, stained, or finished in a custom lacquer color. The finishes can then be further customized and aged with toning and degrees of distress.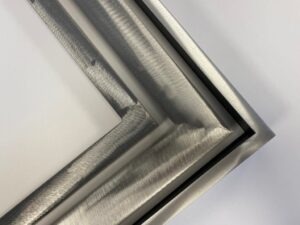 WELDED METAL FRAMES
Due to their inherent strength, metal frames allow for narrower frame profiles for larger artwork. Custom frames can be fabricated in steel, stainless steel, bronze, brass, copper, and aluminum. Whether highly polished, ground, patinated, or left to remain raw; metal frames can be customized to achieve a sleek appearance or an industrial aesthetic.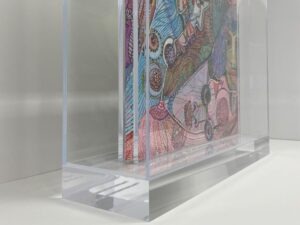 PLEXI-BOXES/VITRINES
Vitrines also referred to as Plexi boxes, plexiglass boxes, or acrylic cases, are a great framing alternative to protect and minimally present art objects and three-dimensional works. Museums and corporate collections with publicly displayed works often use vitrines to protect high-value artwork and antiques.  Rather than traditional shadowboxes, these clear boxes allow for visibility of the sides of a piece while it is on display.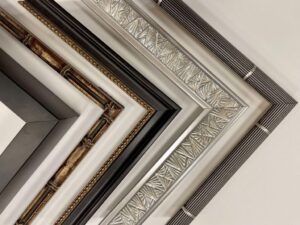 PRE-FINISHED LENGTH CUSTOM FRAMES
In addition to our hand-crafted frames, we also carry several thousand custom picture frame mouldings in a variety of traditional, contemporary, and gilded finishes.  Whether black, white, color lacquer, gold, silver, etc, length moldings provide a cost-effective, yet a custom option for picture frames.
These are just a sampling of the custom frames that our studio can provide.  These can evolve into a custom round and oval frames, liners, float frames, leather frames.
Our team can work with you and your budget to design the right frame that works with your piece and budget.
If you have questions or would like to see any of these options in person, please feel welcome to contact us at: info@armandlee.com (312) 455-1200